This module allows you to post documents so that your team have access to important documents.
Each folder can be granted certain access privillages according to the sensitivity of the documents, and mainclude access as follows:
Full access for everyone (

public may see these documents

)
Administrators, users and contractors (and also ability to select which contractors have access)
Administrators and users
Administrators and power users
Further, you are able to allow upload by users or/and contractors. Ability to search for a document and available space limited to 2 GB and further space can be purchased as required.

Step 1 - add new folders
Add new folders by entering the name of the folder. Once this is done, select who can see this folder.
Note that full access for everyone means the folder will be available to the public - where the have the link to that specific document.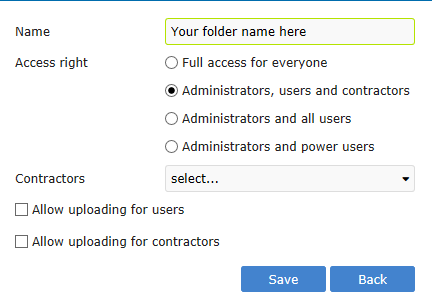 Step 2 - upload
Upload files to the specific folder you want the files to be stored.
Selecting who may upload could come in handy.
Step 3 - sharing
Notifications are sent out to active users and they will receive an email with the detail.
To share the link to someone specific, just click on the share icon and copy the link address. (see example below)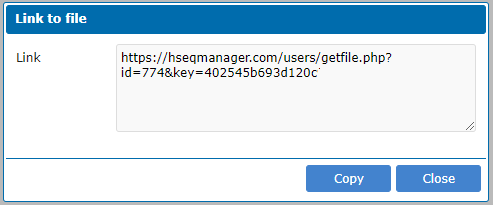 Step 4 - finding documents
To find a document - just use the serach bar and your document will be listed.