"HSEQ Management System" for the future
Introduction
HSEQ Manager is a Health, Safety, Environmental and Quality Management System that allow users to create reports using a smartphone device, going paperless.
Is your field staff being utilised effectively;
Do they have the right tools to do the job;
Is the system transparent and well communicated
Is the system instant and delivers to the right person
HSEQ Manager is designed to allow a smart and fast reporting platform that allows transparency and quick distribution of information.
Monitor and control risks & quality.​
HSEQ Manager [overview]
The HSEQ Management System provides you with a modular system to help meet compliance requirements. Select the modules you want and add more modules as you grow.
Health, Safety & Environmental module - keeping your people and the environment safe.
Defect Management module - a way to record defects and action rectification whilst keeping records.
Registers module - keeping track of what you have and allows you to audit the tools and equipment using the registers.
Inspections module – share what you find effectively and demonstrate compliancy.
Requests module – ask the right person to deliver a service when you need it.
Punch list module - Keep on top of quality matters on your project. Create punch list items for each trade on your project Keeping track of fault correction and outstanding item until the work is done.
Alert module – tell the right people what they need to know.
Action Management module – stay on top of actions - this register helps you manage all those important actions created from reports.
Advanced Dashboard module – know the trends and how your people are performing.
Document module - All essential documents in one place such as Policies, Procedures, Guidelines, Safe work method statements, Risk assessments
Timesheet module – cost code time keeping to track costs that can be downloaded for your payroll system.
Map View module - allows you to search your report on a map.
Audits - record and save all your company audits in one place.
Online training - a quick way to introduce new training and allow current and new users to complete the training. Site inductions and more.
Who uses HSEQ Manager
Manufacturing –implement the process of continuous improvement;
Construction and Mining – everything you need to record and share as you go;
Building – keep on top of quality and outstanding and defects lists;
Retail and hospitality – events are recorded and keep your registers up to date.
Transportation – inspections and request for service or maintenance appointment.
Government – keep track of all HSEQ events and update registers to comply with policies;
Oil, Gas and Energy – regular inspections with actions for continuous improvement. Monitor statistics;
Food and Agriculture – excellent record keeping. Use only the modules you need to keep it simple.
Service providers – keep track of records all on one system without having to fill in any paperwork.
Problem solver [issues solved]
There are several advantages to using the HSEQ Manager Management System. Solutions designed and implemented to achieve the end goal:
Transparency – see all reports and also monitor users, projects and trends;

Save time and money

– reducing man hours spent on reporting. 70-85% saving;
Availability – no need to wait until you get back to the office, create a new report anywhere;
Paperless – digital signature;
Systems Approach – simple and deliver! - as expected.
Adaptable – ready to change, then lets change.
Culture of continuous improvement - we have a few ideas in mind that includes:
Mapping report data that can be viewed geographically.
Introducing remote camera technology that can be streamed to your device.
Online learning system – allow your users to develop and learn online.
Send alerts by user location.

HSEQ Manager – [let's design it for you]
Pricing structure of HSEQ Manager Management System makes it affordable for any company.
Users – Select amount of users
Modules – select modules required
Subscription frequency – Monthly or Yearly
Payment system - 256-bit SSL encrypted transaction

How this app will save you time and money
A safety focused company with 30 employees will have an estimated expense of approximately $80 per hour per employee and this hourly cost includes salary, taxes, insurance & profit. The example compares a single user creating a new report using a paper based system and another using the HSEQ Manager app. ​
The savings calculated below is huge - a company on average can save more than 70% on time and costs when using HSEQ Manager to report and record. Where each user generates only one report a month the company saves $9,032.00 and if each employee generates a moderate 5 reports per month the company saves $47,068.00 These calculation include the price of the app using all the modules available.
See the example below where each user spends time creating a single report each month over a period of 12 months. The same example for each user creating 5 reports each month over a period of a year.

Reporting using HSEQ Manager [report now]
Advanced dashboard on your desktop
A few important features explained: See more here.
A print function allows you to print a neat graph with tabled info. Each graph in the advanced dashboard can also be printed separately. The print function of each graph also contains a full legend with all values (data on the image of the graph is limited to 20 largest values).
Each section on summary page and in advanced dashboard can be collapsed. When doing this the section that is collapsed is excluded to speed up loading of these pages. The collapsed section will also be hidden on the printing option as well.
Settings on the summary page and advanced dashboard (expanded graphs and filters) are now 'per user' instead of 'per company'. This means that each user of a company only see the necessary data applicable to his user level.
Advanced dashboard also is available to users and contractors of a company and not for administrators only. For example: a Contractor will see only data relating to them i.e. data of reports shown is where the Contractor was either the creator or a recipients. This allows other users to see their world and the administrator sees the complete data set.

Where to get the App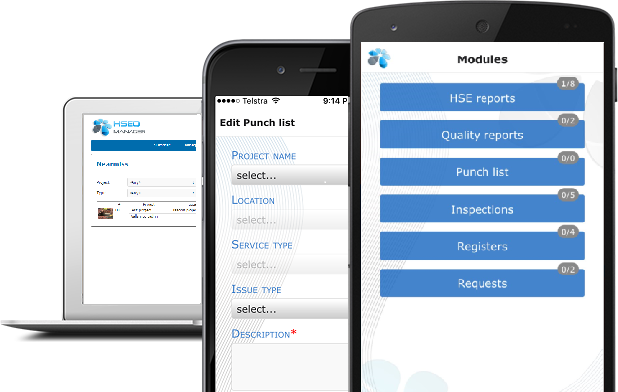 The app that allows you to manage all their reports in one place through the internet. Register, add your users, create projects and divisions edit templates and start using.