Choosing the right plan for you company is a quick 3 step process.
Step 1
Choose how many users you would required to use the app. The top slider bar can be moved to increase users according to your needs. The current subscription plan 1-10, 11-20, 21-30, 31-50, 51-100, 101-300, 301-500.
Just slide and select.

Step 2
Add modules that you required. Default option include all HSEQ modules and then you can add Inspections, Requests, Defect Management (Punch Lists), Registers & Action Management. We are adding new modules all the time so please check your subscription regularly.
Also see our modules page for a short description and functionality.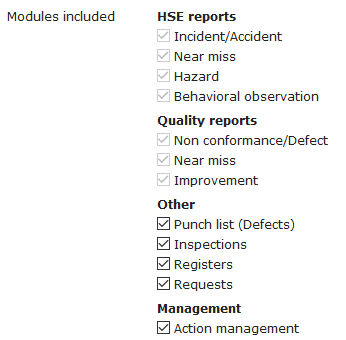 Step 3
Select your billing period - Monthly or Yearly. and pay using credit card. Stripe online payment system is used and a secure connection will be used to complete any transactions.